Have your recently found yourself with a car you no longer need? If so, why are you holding onto it? Instead of keeping it in your driveway to collect dust, why not breathe new life into it by selling us your car? That's right, we here at MINI of Arlington—your local Arlington, Fort Worth, Irving, and Dallas
MINI Cooper
dealer—want to buy your car.
We've put together this quick guide to show you just how fun, fast, and easy it is to sell us your car. Curious to see how? Keep reading!
Why Sell Us Your Car?
We make buying your car a fast process. Thanks to us, you'll never have to meet one on one with a potential buyer, just one of our friendly financing experts at our dealership
When we buy your car, you'll meet with our expert at our dealership during the appointment time you requested. That way, you can mark your calendar with the date and time for your one-on-one meeting with our financing experts.
Our Financing Center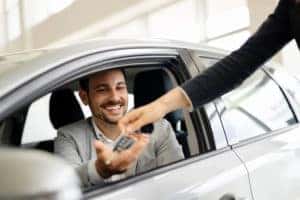 Our financing experts are big fans of research, so that's why we offer several online tools. One is our trade-in estimator tool that allows you to get an idea of your vehicle's value before meeting with our experts.
To take advantage of this tool, all you have to do is fill out our secure vehicle form. Here, you'll add information about your current vehicle, like make and model. Using this information, the tool will provide you with the Kelley Blue Book® Trade-In Value.
With this information in hand, you can now decide whether you want to apply this estimated value toward purchasing a new car—perhaps the iconic and spacious MINI Cooper Countryman. While this SAV (Sport Activity Vehicle) is compact, you'll still have 40.4 inches of front legroom and 37.6 inches of rear legroom. On top of that, you'll have a maximum cargo space of 47.6 cubic feet.
Make sure to check out our online inventory to learn more about the vehicles available to you.
Selling on Your Term
We know life doesn't always provide you with spare time to meet with our team of experts in person. That's why we offer AcceleRide®.
This online tool makes it possible to sell your car anytime, anywhere. This fast, easy, and secure online platform makes selling us your car a breeze. What makes this even better is that, thanks to AcceleRide®, selling your car will be done completely on your terms.
Sell Us Your Car Today
Are you ready to free up some space in your garage, or are you looking to sell us your current car so you can upgrade to a newer model? Either way, you'll be happy to know we buy cars. Thanks to the in-person help from our financing experts and online help from our Kelley Blue Book® Trade-In Value or AcceleRide®, selling us your car will take no time at all.
What are you waiting for? Visit or contact us at MINI of Arlington—located near Arlington, Fort Worth, Irving, and Dallas, Texas—to sell us your car today!