Oil Change Dallas TX

To keep your car operating at optimal levels, get into the habit of scheduling oil changes near Dallas, TX. As you travel toward your job or other locations, your car experiences a fair amount of wear and tear. Just like getting your teeth cleaned every six months to prevent cavities, your car needs regular oil changes. At MINI of Arlington, our service technicians perform oil changes for North Central Texas drivers, and we welcome you to do the same.
Why Should I Get an Oil Change?
Treat your car with TLC and you can ride in it for a long time. Routine maintenance, like oil changes, keeps your vehicle from developing other problems over time.
When you use your car on a frequent basis, like your daily commute, the oil that serves to keep parts evenly and thoroughly lubricated may degrade and collect unnecessary materials that will interrupt its primary function. An oil change makes sure your car carries enough oil to perform. In other words, when your car's thirsty, it needs to get rehydrated.
How Often Do I Need to Get the Oil Changed?
In the past, car manufacturers recommended drivers get their cars' oil changed at the 3,000-mile mark or every three months. Your best bet is to rely on the estimates your owner's manual suggests. Sometimes, manuals may state you need an oil change at 5,000 miles. If your car uses synthetic oil, you may be able to wait until the 10,000-mile interval.
If you detect oil spotting on the ground or other performance issues, bring your car to our service center for a check-up. Just enter your information online to schedule an appointment.
Why Can't I Just Add More Oil When it's Low?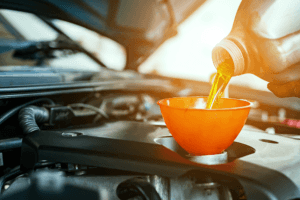 One reason why you need an oil change may be because you do not have enough oil in your vehicle—but it's not the only reason. If you simply add more oil, it does not eliminate older oil that may be dirty and full of debris. It will actually taint the newer oil and deter your car from operating at its best. For the best performance and to help your car last, let our service center team do the work.
How Long Do Oil Changes Take?
Experienced auto technicians, like the ones in our service center, perform oil changes on a frequent basis, so they're skilled at taking care of this routine task in a short period of time. Let us explain the steps involved with an oil change.
Before we take on the task, we identify the type of oil your car needs. Then, we remove the older oil and pour new oil into your engine. We replace the filter that helps keep debris from getting trapped in the oil. We take an extra step by checking other fluids and systems to ensure no other part needs to be topped off or replaced.
Once the oil change is done, your car is returned to you—good as new!
Schedule Oil Changes near Dallas TX
Keeping your car in its best shape means scheduling regular oil changes near Dallas, TX. When you drive to your workplace every day, your car develops wear and tear, so it needs consistent TLC and the help of the service center team at MINI of Arlington. Schedule an oil change appointment with us today!