---
For a stylish and feature-rich subcompact, you can't go wrong with the Countryman or FIAT 500L. That's because they each have a lot to offer to drivers like you in Arlington, Fort Worth, Irving, and Dallas.
However, only one can be your ideal fit. We'll help you decide which vehicle that is in this MINI Cooper Countryman vs. FIAT 500L comparison. Discover their similarities and differences, and contact MINI of Arlington if you have any questions.
MINI Cooper Countryman vs FIAT 500L Performance Specs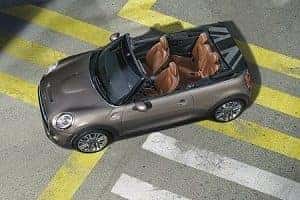 When it comes to performance, the 2019 MINI Cooper Countryman is pretty well-rounded. It has engaging handling, along with several peppy engine options.
For maximum power, there's the available 2.0L TwinPower Turbo 4-cylinder engine. This one delivers 228 horsepower and 258 lb-ft of torque, which will help you pass other cars easily on the road.
Unfortunately, the 2019 FIAT 500L doesn't fare as well in the performance department. Many find the ride a bit stiff and bumpy and say that the vehicle doesn't handle all that well.
Plus, it only has one engine option: a 1.4L MultiAir® Turbo 4-cylinder engine. It delivers just 160 horsepower and 184 lb-ft of torque.
Fuel economy, meanwhile, is pretty close with these automobiles. The Countryman achieves an EPA-estimated 24 city/32 highway MPG, while the 500L achieves an EPA-estimated 22 city/30 highway MPG. Though the numbers are close, you may notice the difference if your daily commute is on the longer side.
Interior Space & Amenities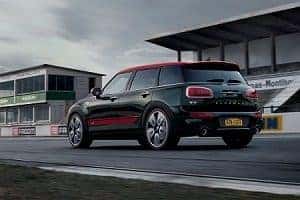 The MINI Countryman and FIAT 500L may be subcompact vehicles, but they offer plenty of room for five people.
For instance, the Countryman has 40.4 inches of front legroom and 37.6 inches of rear legroom. The 500L, on the other hand, has 40 inches of front legroom and 36.7 inches of rear legroom. While impressive, it could affect your taller passengers.
However, they both offer heated front seats, which will keep you cozy on even the coldest nights. The 2019 MINI Cooper Countryman also offers 8-way power-adjustable front seats, so you can get in that perfect position for all-day comfort.
Unfortunately, you won't find those power-adjustable seats inside the 2019 FIAT 500L.
2019 Countryman vs 2019 500L Technologies
The Countryman and 500L offer plenty of technologies to help keep you connected and entertained. One of the more prominent features in each vehicle is Apple CarPlay™ smartphone integration.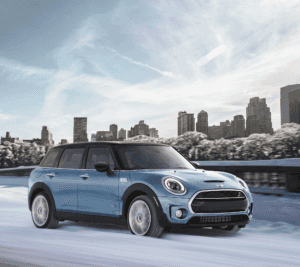 Simply plug your phone into the car's USB port, and your favorite apps will appear on the display screen. This makes it easier to text, get directions, and more, since you don't need to mess with your phone while driving.
They also both offer a handy navigation system. With turn-by-turn directions and real-time traffic updates, you'll get to your destination in no time at all.
However, the MINI Cooper Countryman offers an 8.8-inch touchscreen, making it easy to see your various media options. Plus, many believe the screen to be quite intuitive, which helps when you're trying to quickly make a selection.
On the other hand, the FIAT 500L only offers a 7-inch touchscreen. While the interface is intuitive and easy to see, the touchscreen buttons are small and can be hard to hit. This means that it may take several tries before selecting the option that you want.
2019 MINI Cooper Countryman vs 2019 FIAT 500L: Verdict
When it comes to the 2019 Countryman vs. 2019 500L, the MINI Cooper comes out on top. That's because it offers more power, space, and user-friendly technologies.
If you want to experience this subcompact SUV for yourself near Arlington, Fort Worth, Irving, or Dallas, don't wait. Schedule a test drive at MINI of Arlington today!