The MINI Cooper Convertible has a strong safety rating—a testament to the small car's incredible safety features. In this article, we at MINI of Arlington want to help Forth Worth and Dallas drivers explore this car's commitment to your safety and that of your passengers.
We'll cover the most important safety technologies this vehicle offers, from driver assistance to passive safety systems. The Cooper Convertible helps keep you secure on those Arlington and Irving adventures, and we're excited to show you how!
---
Light Your Path with LED Headlamps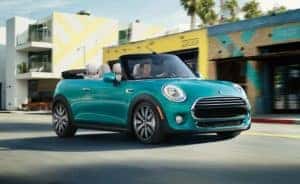 MINI cars are known for their bold, rounded headlamps—an expression of their British style. The lamps are designed for more than just appearance's sake, though. By the glow of their LED beams, they shine more fiercely and efficiently up the road than their counterparts with traditional bulbs.
These headlights sense both rain and darkness, too, and make the proper adjustments to help you see clearly, no matter what conditions you find on the roads. The cornering lights will help illuminate your turns and give you a sneak peek at what's coming.
The MINI Active Driving Assistant
The MINI Cooper Convertible's attention to safety shines through in its Active Driving Assistant. It's the camera-based driver-assist feature that can be accessed from the MINI Connected infotainment system. The feature includes Forward Collision Warning and Automatic Emergency Braking.
If the camera system senses that a frontal collision is imminent, it will warn you to apply the brakes and slow the vehicle. The feature also applies the brakes to help you reduce your speed. These capabilities can help you avoid or mitigate collisions in your Cooper Convertible.
---
Accident Protection with Airbags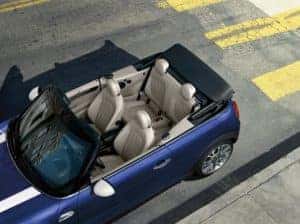 With any luck, the MINI Active Driving Assistant will help you avoid collisions in your Cooper Convertible. However, should you find yourself in an accident, the airbag system will help protect you and your other passengers from injury.
The system includes two front, two side-impact, and two knee airbags. They monitor collision severity to adjust their inflation rates to the right level. Engineered to help protect vehicle occupants from possible secondary impacts, they play a key role for safety in the MINI Cooper Convertible.
Rollover Protection, Just in Case
When the convertible top's down, your head is exposed to the outside world. Normally, this is refreshing experience, but in the event of a rollover, it puts drivers and passengers at more risk. That's why every MINI Convertible comes standard with a hidden roll bar.
This bar deploys within a fraction of a second and offers extra head protection. The rigid body structure and robust frames also contribute to your protection, if your MINI ever overturns.
---
See the MINI Cooper Convertible in Action
We hope you liked this review of MINI Cooper Convertible safety features! By our rating, this small car is equipped to help you drive more securely on the roads of Arlington and Fort Worth.
Want to see the Cooper Convertible for yourself? Simply schedule a test drive at MINI of Arlington. We'll get Dallas and Irving drivers behind the wheel to drop the top and see this ride in action!