MINI Connected

Infotainment is a must-have in cars these days. It helps you stay connected to your contacts, your music, and the roads of Arlington, Fort Worth, and beyond. In MINI vehicles, you can enjoy all that functionality and more with MINI Connected, a premium multimedia system.
Over the years, this system has made many advances and improvements. Today, MINI Connected can do more than ever, and we want to show Dallas and Irving drivers how it makes your drives more enjoyable, informed, and, above all, convenient.
Want a closer look? Contact us at MINI of Arlington to see this system in action in any of our stunningly modern vehicles!
MINI Connected: Seamless Connectivity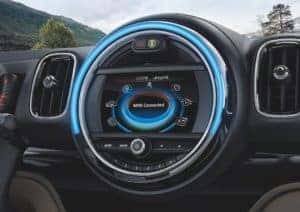 MINI Connected brings the most advanced MINI technology together in a 6.5-inch or 8.8-inch display. In keeping with the brand's traditional looks, the screen sits in a circular dashboard housing, outlined by an arc of glowing light. It lends retro styling to every MINI cabin.
For years, this system has offered state-of-the-art audio, navigation, and smartphone capabilities. Now, it has even more in store, from emergency calling to remote door unlock. Next, we'll look closer at each of those highlights for your benefit.
MINI Assist eCall
When you've been in an accident, it's imperative to waste no time. Just push the SOS button, and your location and vehicle information will be sent to the MINI response center. In certain cases, your vehicle will call automatically, and the response center can request help on your behalf.
MINI TeleService
Now, you can schedule service right from the driver's seat! Whether you're due for routine maintenance or you've noticed a dashboard warning light, MINI Connected takes care of it. The system monitors your vehicle's service needs, so a MINI Service Advisor can contact you to schedule service well in advance.
Advanced Real-Time Traffic Info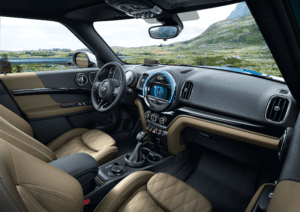 You don't want to be stuck in traffic if there's an easier route. MINI Connected can greatly help you out with real-time traffic information. Stay informed of accidents or construction projects ahead. If it affects your commute, this system can alert you and change your route.
Concierge Services
What's better than your very own concierge? When you're wondering where to find the best 4-star hotel or Italian restaurant, a friendly Response Specialist can make some recommendations. You'll even get addresses and phone numbers sent to you! Call and make a reservation, if necessary.
Remote Services
Now, you can lock, unlock, or send directions to your MINI from anywhere. As a result, it won't matter whether you forget to lock your car as you walk into work or you've sent someone out to your vehicle without your keys. You can also have navigation ready to go when you hop into the car and take off!
MINI Connected App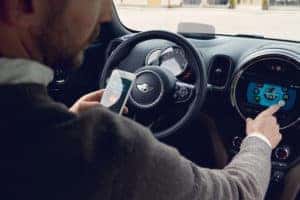 With the app, you can control many of the above features from your smartphone. Lock and unlock your doors or share arrival times with those who are expecting you. That's just the beginning when it comes to mobile MINI Connected!
See MINI Connected in Action
We know many Dallas and Fort Worth shoppers want to see what the latest version of MINI Connected can do. If you want to test out this system's many features for yourself, just visit the showroom here at MINI of Arlington. Our experts will walk you through your favorite functions in detail.
Make an appointment with our sales consultants to learn more about MINI Connected. It's the control panel for your Irving and Arlington adventures, and we're excited to give you a closer look!