---
Are you looking for an agile car that can take on tight city streets of Arlington, Fort Worth, and Dallas like a pro? Then you may be a match for the
2020 MINI Cooper S Hardtop
. Check out our review of what this vehicle can offer your drives through the Irving area.
If it feels like the right fit for your lifestyle, contact us and we'll set you up with a test drive!
MINI Cooper S Powertrain
Engine: 2.0L TwinPower turbo I-4
Horsepower: 189
Torque: 207 lb-ft
Transmission: 6-speed automatic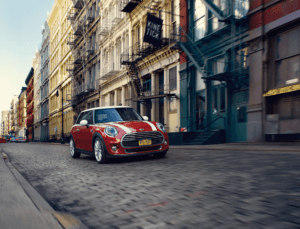 The MINI Cooper S is a trim level that's available for both the 2-door hardtop and the 4-door hardtop. It runs on a 2.0L TwinPower turbo I-4 engine that produces an impressive 189 horsepower and 207 lb-ft of torque. Not bad for such a compact car!
It can even go from 0-60 MPH in just 6.5 seconds under the right conditions. Of course, always keep safety in mind when pushing your MINI Cooper S to the limit.
The S powertrain also comes paired with a Steptronic Sport Automatic Transmission. This 6-speed automatic transmission provides clean and efficient gear shifts while steering wheel-mounted paddle shifters give you a sporty feel and the control to change gears on-command.
It also features three different driving modes you can choose from to get the kind of drive you want. Available modes are Sport, Green, and Mid.
Dimensions: MINI Cooper 4-Door and 2-Door Hardtop
As we mentioned, the S is a configuration that's available to you on a variety of MINI Cooper models, including the 4-door and 2-door hardtop. While the powertrain is consistent, these two hardtop models vary in their interior dimensions.
MINI Cooper S Hardtop: 4-Door
Seating capacity: 5
Headroom (front/rear): 39.9/37.5 inches
Legroom (front/rear): 41.4/32.3 inches
Trunk volume: 13.1 cubic feet
Cargo capacity: 40.7 cubic feet
The 4-door hardtop seats a total of five adults between the first and second rows and gives the front-seat passengers 41.4 inches of total legroom. Rear-seat passengers can stretch out in 32.3 inches of rear legroom. The front and rear passengers also get 39.9 inches and 37.5 inches of headroom, respectively.
If you have all five seats filled, you can still bring along 13.1 cubic feet of cargo in the trunk space behind the second row. You can fold down the back seats to access the full cargo volume of 40.7 cubic feet.
MINI Cooper S Hardtop: 2-Door
>Seating capacity: 4
Headroom (front/rear): 40.3/36.9 inches
Legroom (front/rear): 41.4/30.8 inches
Trunk volume: 8.7 cubic feet
Cargo capacity: 34 cubic feet
The 2-door model of the MINI Cooper S Hardtop is slightly more compact. It seats a total of four adults comfortably and gives them 41.4 inches of legroom in the front seat and 30.8 inches of legroom in the back seat.
Passengers also get 40.3 inches of front-seat headroom and 36.9 inches of rear-seat headroom.
This model also allows you to expand the cargo capacity by folding down the rear seats. When you do, you'll have 34 cubic feet of cargo volume to work with. If you keep the rear seats upright, you can pack 8.7 cubic feet of cargo into the trunk.
Test Drive the 2020 MINI Cooper S Hardtop
Do you want to learn more about what the 2020 MINI Cooper S Hardtop can bring to your drives through Irving, Arlington, and Fort Worth? Contact the team at MINI of Arlington serving the greater Dallas area.
We're excited to get you behind the wheel, so contact us to schedule your test drive today!