2020 MINI Cooper Convertible Review


Shop New MINI Convertible Models
Buy a Convertible Online
The areas of Arlington, Fort Worth, Irving, and Dallas are known—among other things—for their warm climates and sunny skies. What better way to enjoy this fresh, warm air than from the seat of a convertible?
Introducing the 2020 MINI Cooper Convertible. This stylish ride is full of innovative features, impressive performance, and tons of good looks. The team at MINI of Arlington is giving drivers a peek inside this commendable ride with the following 2020 MINI Cooper Convertible review.
Discover what it's all about by reading the sections below!
Jaw-Dropping Good Looks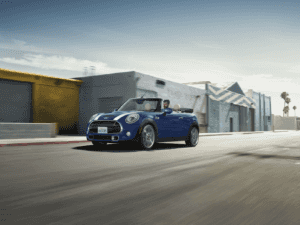 If you've ever come across a MINI Cooper vehicle on the road, chances are you've stopped to take a look. These vehicles are known to impress with their stunning design, and the 2020 MINI Cooper Convertible is no different.
Express your unique style through a varied selection of available exterior colors. Stand out from the pack with the vibrancy of Caribbean Aqua, Solaris Orange, or Chili Red. Keep it classy by going with Midnight Black or Moonwalk Grey. Add a subtle hue by choosing Starlight Blue or Emerald Grey.
This convertible is given even more style points, thanks to its iconic LED taillights. Their Union Jack design pays homage to their British roots.
Moving inside, each MINI's interior can be customized to fit your personality. Choose from available upholstery options, such as Chesterfield leather or Carbon Black leather for a luxuriously comfortable experience.
2020 MINI Cooper Convertible: Innovative Technologies
The MINI Cooper Convertible was designed to help keep you entertained, connected, and informed with an innovative suite of technology systems. Let's take a closer look.
Utilize the power of your smartphone with Apple CarPlay™ compatibility. Here, it's super simple to access your music and maps, as well as send and receive phone calls. Plus, with the help of Siri and voice recognition, it can all be done hands-free.
Speaking of your smartphone, it's also where you'll find the MINI Rain Warner app. This application checks the local forecast for precipitation, and if the chance of rain looks high, it'll send a notification to your phone.
Of course, you can always close up shop anytime with the electrically powered soft top. With a fold-up time of just 18 seconds, you'll never again be caught in inclement weather.
Confidence-Boosting Safety
Life can be unpredictable. Luckily, the MINI Cooper Convertible and its suite of safety features are here to save the day. Here are some of its standout features:
Rollover Protection: All MINI Convertibles come standard with a hidden roll bar. Able to deploy within a fraction of a second, it provides you and your passengers with additional head protection in the event of a rollover.
Active Driving Assistant (FCW/AEB): Forward Collision Warning (FCW), as well as Automatic Emergency Braking (AEB), come standard with this camera-based assistive driving system. If a possible collision is detected, you'll receive an alert, giving you time to react accordingly.
Six Airbags: Two front airbags, two knee airbags, and two side-impact airbags help oversee collision severity, adjusting inflation rates to help protect driver and passenger from possible secondary impact.
Explore the 2020 MINI Cooper Convertible up Close
If you like what you just read, why not come and check out all of these features for yourself?
Visit us here at MINI of Arlington to explore our inventory of 2020 MINI Cooper Convertibles. Don't forget to take a test drive around Arlington, Fort Worth, Irving, and Dallas while you're here.
We hope to see you soon!